I came to Chile without much of a plan or an idea what I'd be doing. All I knew was there was a lot of wilderness, volcanoes and this magical land called Patagonia. Upon arriving in Chile I started to look around and do a little more research. First thing I learned is that Patagonia is really frickin big. The iconic photos of the Torres del Paine and Fitz Roy only encompass a very small portion of what Patagonia is, a largely undeveloped expanse of rolling hills, mountains and ice. In fact the whole of Chilean and Argentinean Patagonia covers roughly a million square kilometers and stretches for half the distance of Chile from the Lakes District southward to Tierra del Fuego!
The second thing I learned is that because of crowding a new permit system had been introduced in Torres del Paine NP and things were booked up for all of January and February, well damn. Also to add to the pain, three different websites currently manage lodging (rifugios and camping) in the park and it's up to you to create an itinerary and sort out how and where to book, not so easy. After trying to line up lodging and work out any itinerary I said screw it, it's time to be an ultra runner. If you have more questions on the current state of booking O or W multiday treks in the park feel free to drop me a line, as I now know the system quite well, but won't discuss it further here.
So with all the headaches out of the way, I could get back to the adventure at hand. After a few days in Puerto Varas I caught a flight from Puerto Montt to Punta Arenas ($130) and stayed the night in town to stock up. Then it was off to Puerto Natales and Erratic Rock to lay down done plans. I made the decision to run most of the W trek over two days, to the Mirador de los Torres on day 1 and Valle Frances on day 2 (good weather window). Torres del Paine National Park is about 1.5h from Puerto Natales, and buses only run a few times a day (730/1130 to, 1430/2000 return), and cost between 12000-15000 roundtrip (JB bus is the cheapest). The bus arrives at the laguna amarga visitor center where everyone has to buy a parks pass (21000 in cash for foreigners, line can take 15-60min), and if you want to use it for up to three days of reentry you need to have them stamp the pass. After that you have the option of paying 3000 pesos for a shuttle ride into the park or walk/run the 7km alongside the dirt road.
NOTE it is technically illegal to run in the park per their rules, silly as it may be, make your own decision about the rule. Though no one bothered me, but make sure to be respectful of others on the trail as it's very busy.
I paid the shuttle fee and was dropped off at Torres Central where I started jogging down the road and hitting the double track trail, taking the spur towards Chileno and the Torres. The trail was quite runnable up to Chileno, but there was a wicked wind that rushed down valley throwing dirt at us. After Chileno one enters a pleasant forest and then starts the steep trek up toward the Torres. The trail is a bit rocky, but easy to follow with plenty of clean water access (I never treated any water). Soon I crested the moraine and an awesome basin of granite lay before me, holy $h!?. It had only taken me 1:40 to get up so I spent 30min just relaxing, taking photos and just reveling in the majesty. Then jogged down the trail all the way back to Laguna Amarga and the bus pickup at 14:30, taking care to be respectful of all others on the trails. Fantastic half day run, amazing view, and a must see if you're I the area.
Day 2 saw me doing the same, but skipping the 1h line. This time I headed for Cuernos and Valle del Francés. The trail to Cuernos was buttery smooth and views of the lakes and mountains were phenomenal. I cruised on past Cuernos and Francés to Italiano camp and quickly struck up Valle del Francés. The trail in this middle section of the 'W' is rocky and rooty, so much slower travel. The view from mirador Francés and Britanico are phenomenal, a combination of RMNP and Glacier NP; soaring peaks and glaciers abound. I slowly wound my way back down past the crowds and headed toward Paine Grande. From here I had the option of catching a ferry (18000 pesos), but had 3h so decided on the long slow route 17km back to the visitor center. The trail started with rolling hills and spectacular views across Lago Pehoe toward the Torres, then flattened out and was a grind back to the visitor center. I finished off my long Trans-Torres NP run of 55km in 7:50, not fast, but beautiful with lots of photos taken. The final piece was to catch the bus around 1830-1900 back to Puerto Natales, finally reaching town at 2130, hungry and tired.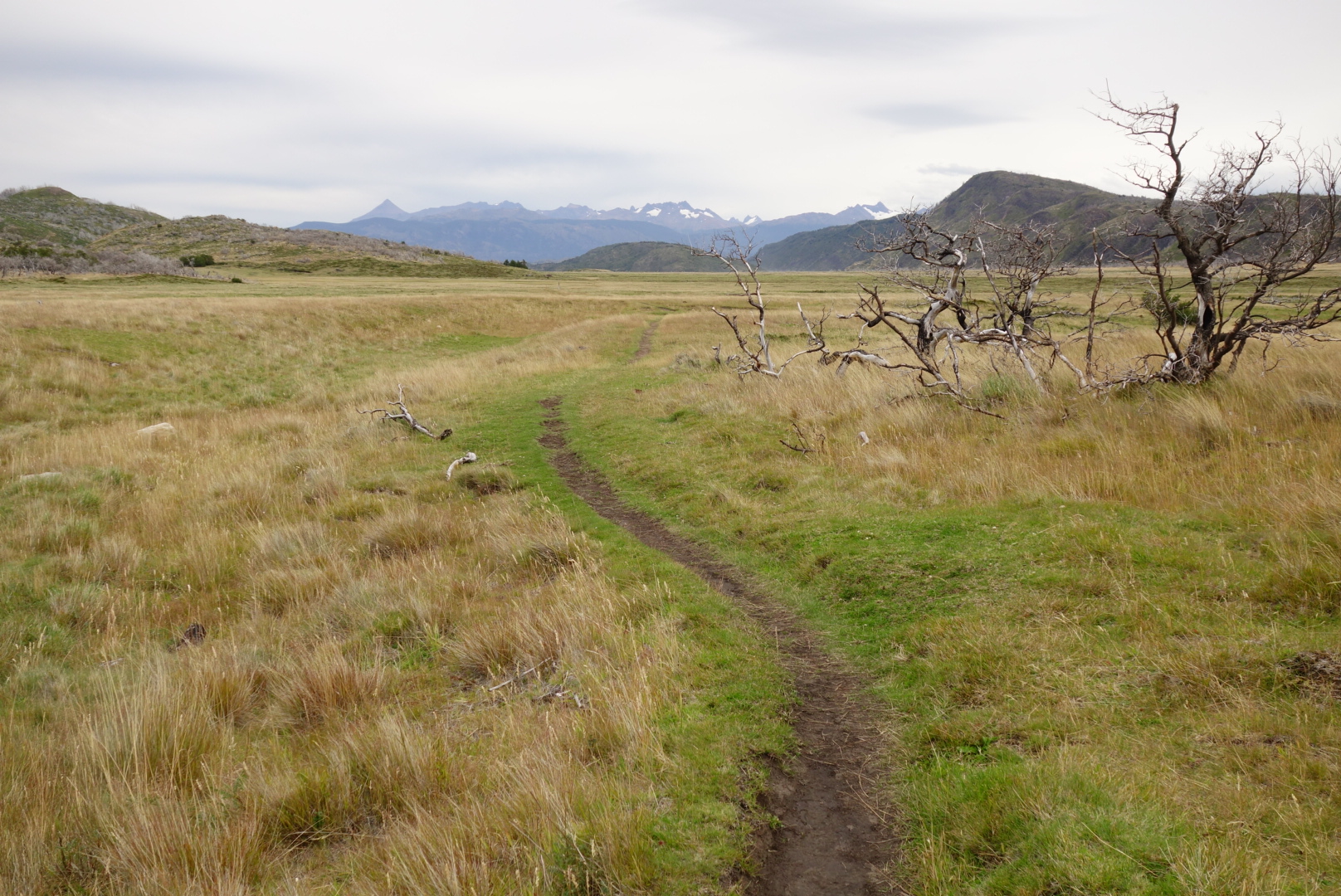 The next day I moved on to Ushuaia and Tierra del Fuego by bus (12h). Quaint little town with an abundance of fantastic runs within a few kilometers of town. In my opinion a great place to post up for a bit and explore, because there are also great facilities available. I'll briefly mention the runs I did, but note there are quite a few more I didn't do.
Day 1 I followed the trail up Cerro del Medio to the summit for a view of town, the surrounding mountains and the Beagel Channel. I descended a faintly marked trail on the west side into the forest, squished through a peat bog and over to the Glaciar Martial view point before jogging back to town 30km).
Day 2 a few friends and I hitch hiked into the National Park, paid the entry (160 pesos) and followed the trail up to the summit of Cerro Guanaco, another fantastic view point with amazing views of the entire park. The trail isn't long (16km), but it's a 1000m climb with some steep and muddy sections.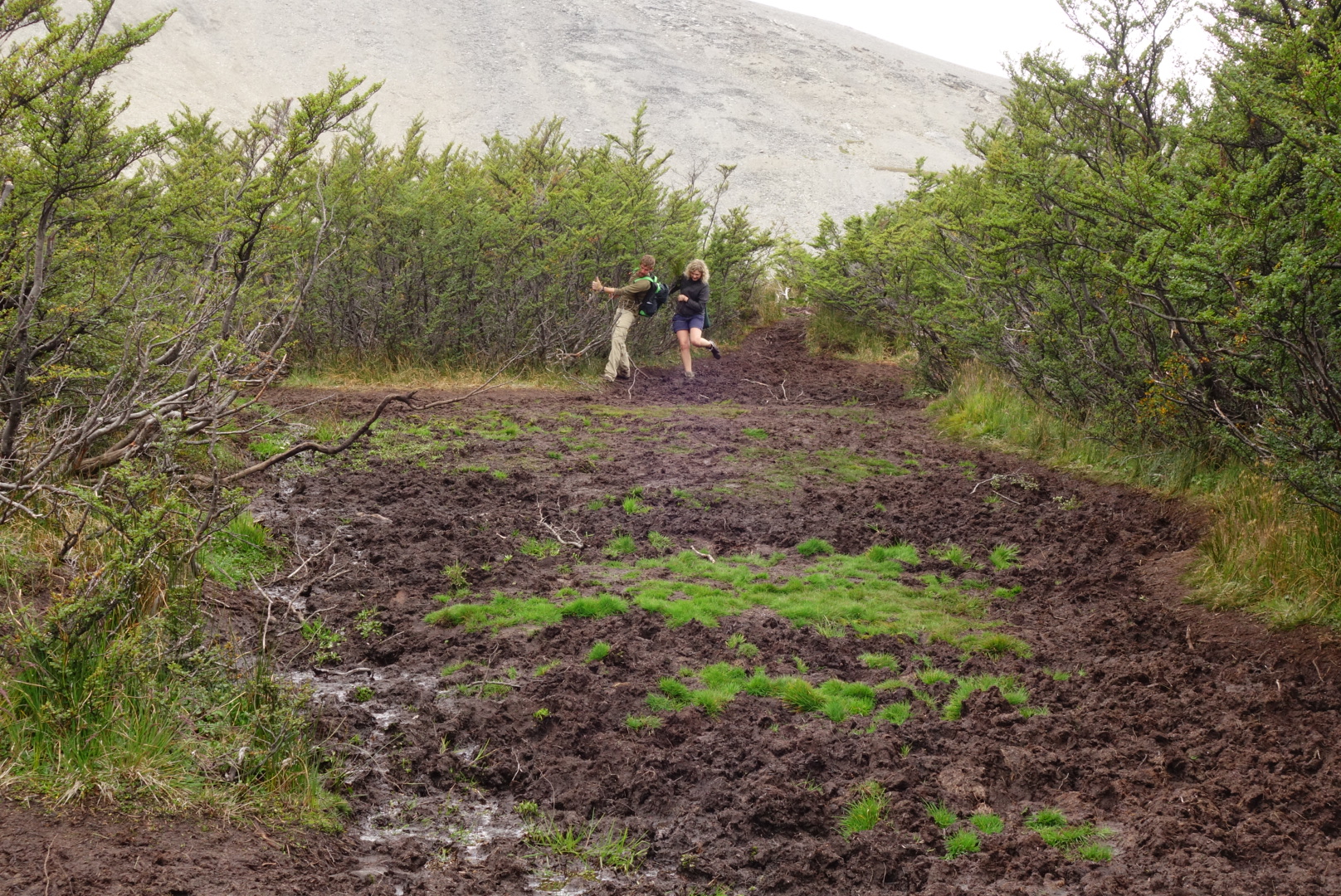 So it rains a lot in Tierra del Fuego, and sometimes things get muddy.
Day 3 I went big and set out from the hostel through the dirt bike park and up into Valle de la Oveja. Fantastically runnable trail high above the valley, finally topping out at the pass in a barren scree field surrounded by mountains. Then I dropped down into the lush Valle Andorra, with a spectacular side trip to Lago Caminante and Superior. Both are amazing blue glacial lakes set in deep green valleys. The run down Valle Andorra was slow due to very muddy trails mixed with some beautiful single track. The 35km run took me 5h, and I was able to hitchhike back into town with a local, saving me 11km of road. Fantastic loop, with almost no one on the trail and expansive views.

Notes for Patagonia:
Crossing between Chile and Argentina for US citizens is now fairly easy. No fees, just stamps and passports needed. But don't bring any fruits, vegetables or meat.
For those coming from the US or Europe, bring a lot of your local currency to exchange (or use without exchanging) because ATM fees are high and ATMs are often empty in popular places.
Many of the cities aren't near the best trail running, you'll have to do some work to get there; bus, rent a car, hitchhike, or ride a bike a long way. Ushuaia, El Chalten and Bariloche are the exceptions, with fantastic running right out of town.
If you're having trouble finding trails, turn on strava and check segments for running and riding. I've used this to find all kinds of trails. You can also contact locals and trail groups for information, though response can be slow.
Traveling around Patagonia is fairly easy by bus or hitchhiking for the more adventurous. Cheap flights also exist within country, but crossing borders is expensive. Chile is cheaper than Argentina.
So that's just a few thoughts and lots of photos, next up El Calafate and El Chalten. Special thanks to Vfuel for powering my adventures and the PLT for making all the fun possible.